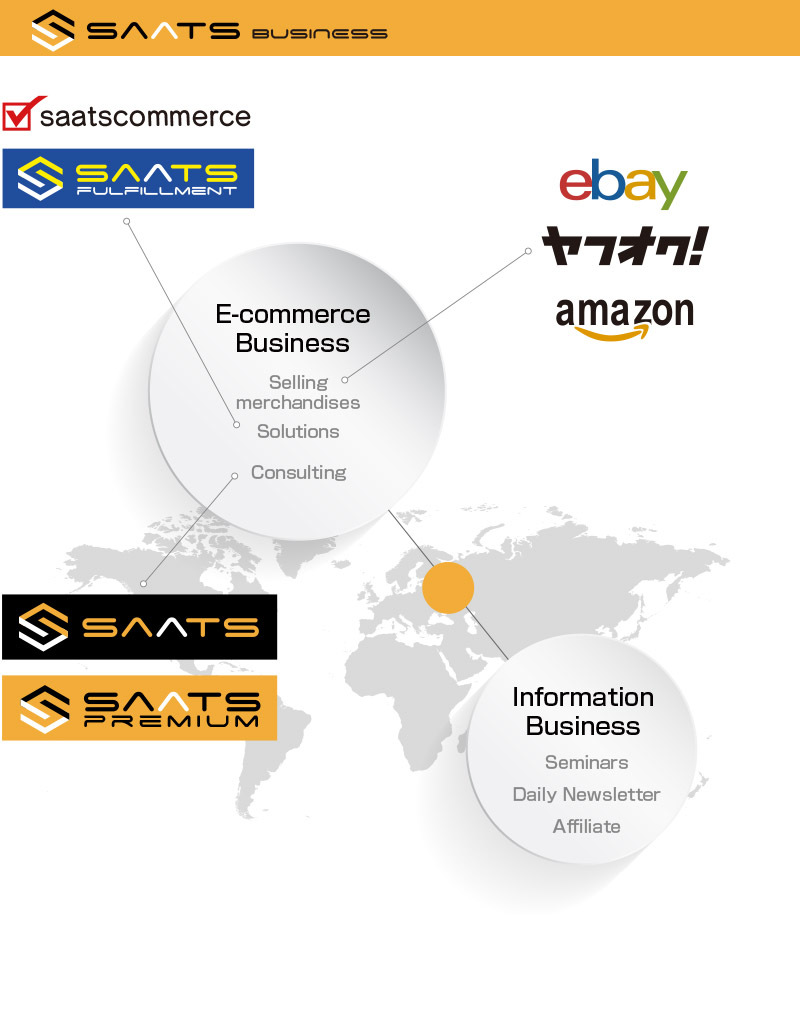 SAATS Basic
SAATS Basic is our core business support service for Japan based sellers who conduct channel import/export business on the world's largest auction marketplaces. eBay and the Japan's largest auction marketplace, Yafuoku! by Yahoo! JAPAN.
This monthly subscription based support service has launched in March, 2008 and still maintains over 500 active members in the community. Not only providing the latest EC updates/news, but also lending unlimited English/Japanese translation service, purchasing service(Buy Amerika), eBay research tool(Terapeak), multi-channel listing tool(SAATS Commerce), fulfillment service(SAATS Fulfillment), and complete eBay manuals. Therefore, any level of seller can take advantage of our professional support service.
A lot of our SAATS Clients have became Top-Rated Sellers and created their own retail e-commerce business.




SAATSコマース
SAATS Commerce is the multi-channel listing management tool that supports Yafuoku!, twenty eBay sites, eBay Motors, Amazon.com, and Amazon.co.jp.
It helps sellers to list faster, manage listings more effectively, and process orders after sales smoothly.
Yafuoku features
SAATS Commerce has over 400 professional templates users can take advantage of without any HTML knowledge. Users can also upload up to 12 images while Yafuoku! supports up to 3 images, so it enhances more chances to sell. Also, users can save lots of frequently used templates, so that you can list faster through saved templates. Post sales features can also help users to communicate with buyers easily by saving automated messages.
eBay features
SAATS Commerce has over 400 professional templates users can take advantage of without any HTML knowledge. Our full feature set supports users selling and managing listings fast and efficiently. After the item is sold, users can print out the Japan Post Shipping Labels directly through our software with automatic registration to Japan Post for tracking. Also, we have price comparison. Users can easily compare the same item across multiple platforms before choosing a competitive price.
Amazon features
This solution has complete research, listing, repricing, and order management features for amazon.com and amazon.co.jp. Order management features are also available to amazon.ca, amazon.mx, amazon.uk, amazon.de, amazon.fr, amazon.it, and amazon.es. Users can print out the Japan Post Shipping Labels directly through our software and have the item automatically registerd with Japan Post for tracking.



SAATS Premium
SAATS Premium is our additional coaching service to SAATS Basic. SAATS Invite two professional coaches who specializes eBay business and amazon export business.
※The Premium Plan is available for a limited time only.









SAATS Fulfillment
SAATS Fulfillment is a fulfillment service for Japan based eBay and Amazon sellers. It's a perfect service for small sellers who wants to outsource shipping operations, but don't have the resource to hire part-time workers. SAATS is a partner with Ashmart logistics and sellers can ship the items to their warehouse in Chiba Prefecture from their suppliers. Once we receive their products, we inspect the item carefully, put it into a brand new box, and ship out the item to their buyers worldwide. Therefore, all sellers have to do is to specify the buyer's address and items they are going to ship to our warehouse based on the form we provide inside the fulfillment system.
We also support Amazon sellers who want a partner for shipping the items in bulk to Amazon fulfillment centers in the US. This is the monthly subscription service and sellers can outsource their shipping operation, so that they can focus on their core business such as research and listing items.



Gofundjapan
GoFundJapan has specialized in crowdfunding marketing and public relations since it was funded.
You won't need to worry about creating, designing and optimizing Makuake campaigns at all. We are here for you!